Personal Injury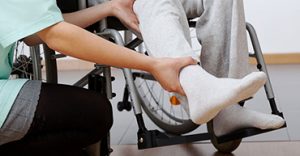 Rollins & Murray, P.A. believes that if you or a loved one suffered an injury through the wrongdoing of another person or party, you deserve the opportunity to pursue damages from the party that is legally responsible.
Injured individuals often incur lost expensive medical bills, physical therapy and rehabilitation costs, lost wages, lost time with family members and other damages.
Our personal injury attorneys will fight to ensure you receive just compensation for your pain and suffering.
Slips and Falls
In the state of Maryland, property owners have an obligation to ensure their properties are maintained and safe from hazards that could cause injuries. When an individual is seriously injured in a slip and fall that occurred because of a property owner's negligence, the individual may be entitled to monetary compensation.
Some examples of slip and fall injuries are:
• Sticky or slippery substances on the floor
• Poorly lit areas
• Violation of building codes
• Malfunctioning of stairs or escalators
Before you accept the blame for your slip and fall, contact the personal injury attorneys at Rollins & Murray, P.A. and let them determine if you have a case.
Medical Malpractice
Medical malpractice occurs when a health care provider neglects to provide appropriate treatment, omits to take an appropriate action or gives substandard treatment that results in harm, injury or even death to a patient. Medical mistakes can have dire consequences and be devastating for the patient.
Medical malpractice scenarios where financial compensation may be owed to you include:
• Failure to follow proper standards of medical care
• Failure to diagnose or misdiagnosis
• Negligence by a medical professional or institution
• Wrongful death
Dog Bites
A dog bite can be a very traumatic experience that leaves the victim with lasting physical and emotional scars, and costly medical bills. Rollins & Murray, P.A. will go to work for you to make sure you receive just reparation for your pain and suffering.
Automobile Collisions
More than 35,000 people die in road crashes in the U.S. each year and an additional 2.35 million are injured or disabled. If you're involved in a serious collision and don't believe it was your fault, it may be time to take legal action. Injuries caused by the recklessness or negligence of another driver may entitle you to financial compensation.
Cars are not the only vehicles involved in accidents on the road. Trucks, motorcycles, bicycles and pedestrians also share the road. Rollins & Murray, P.A. will fight to get you the help you deserve.
We Can Assist You!
If you've been injured in an automobile accident or other incident caused by the negligence of others, let the attorneys at Rollins & Murray, P.A. protect your rights. Our personal injury practice areas include automobile collisions, slip and falls, medical malpractice, boating accidents and dog bites. Call us today to set up a consultation OR…